In The Desert They Can Remember Your Name
The High Wire Act Is Not An Act
I've known Josh since he was, what, fourteen? Sixteen? Since he was known as the kid who could park a 50 foot sloop — under sail — in the Key West Bight the way Steve McQueen parked a Mustang. Josh was essentially raised on a boat. I'm not sure if he remembers any life before that. His family spent seven years sailing around the Pacific and the Caribbean. They came to Key West when his older brother asked if he could go to high school. A half hour after landing here Josh was working as a bike mechanic, and he has been rebuilding and restoring increasing complex things with rudders and/or wheels ever since. His past few years have been consumed with rebuilding the wreck of the Schooner Hindu, a 79-foot long, 88-year-old old pleasure yacht turned spice trader. After the Herculean task of returning the boat to sea-worthiness, they got down to the business of running charters for a few months, to pay for the restoration. Then, one night, out of the blue, and old fixture on the mast gave way, and the mast snapped, slamming down onto the deck. No one was seriously hurt, but the Herculean task became the Sisyphean task. It's taken some time, but the Hindu now has a new mast — better, stronger, shinier. The bike is a Swedish Army bike, a hand-me-down from a former client. It is very heavy, but solid as a tank.
Saint Patrick of the Fixed Gear
Patrick built his first bike wheel when he was ten. His step-father showed him how so that he could put quick release hubs on a set of rims he had. He's done many other things in the years since – waited tables, earned a degree on Marine Engineering — but spinning wrenches and fixing bikes has always been there. When he opened the Fixed Gears storefront on Simonton Street, I thought, how's that guy going to make a living? The answer is, by developing a loyal following amongst the skinny tire crowd (road cyclists, triathletes, kids with single-speed and fixed-gear bikes) as the guy who's going to set their bike up, or fix it, they way they want it.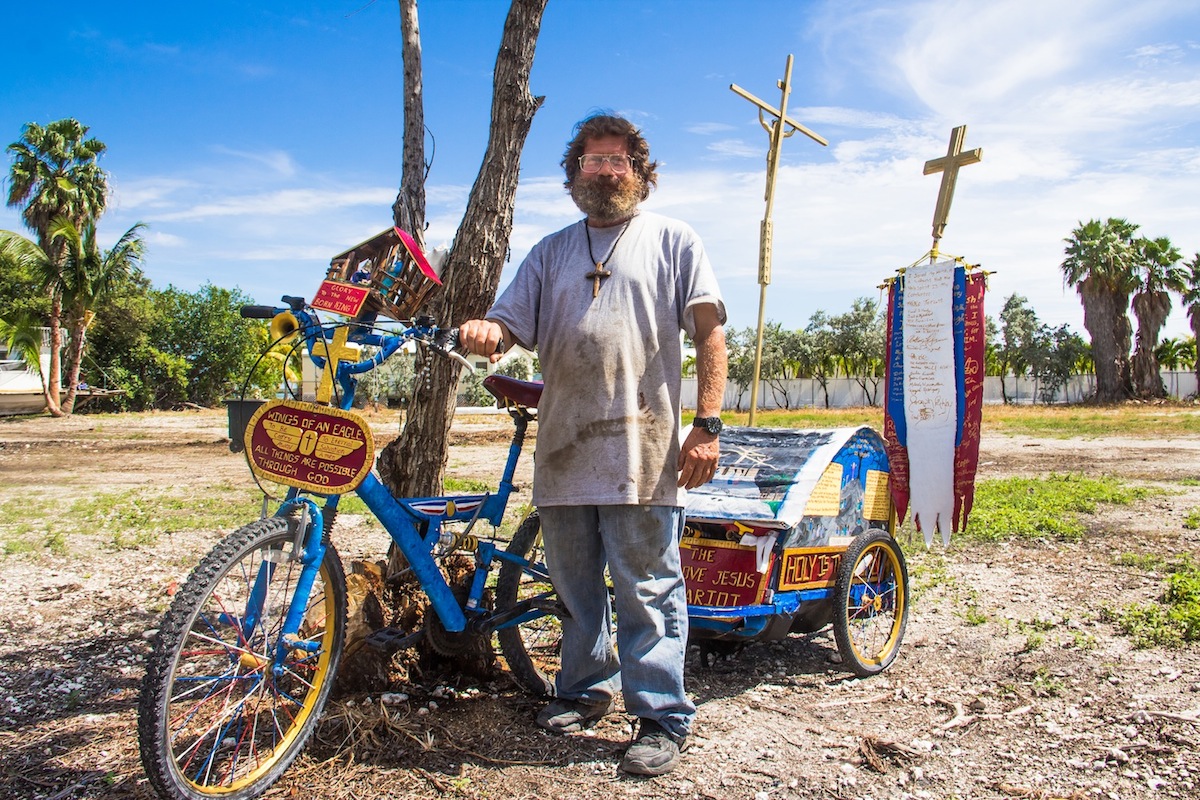 All Things Are Possible
I'd seen Mike riding his bike on Big Coppitt several times, usually on the bike path on those hot as hell Keys days when the sun just blanches everything. I always wanted to take a picture of him and his bike but thought it might be intrusive. Also, to be honest, I was worried about getting trapped, about getting prosthelytized to for an interminable period of time. When I saw him one day and finally summoned the stones to stop and ask if I could take his picture, he was cleaning up an empty waterfront lot, dragging trashcans full of debris across two acres of hardscrabble. Which would have put anyone in a fire and brimstone mood. Except he wasn't. And it was immediately apparent that he was kind, humble man, happy to be in the world and happy to have his picture taken. He wished he was wearing a clean shirt. The bike and trailer are his rolling shrine and testament, a reverential reinvention of the altar. And if it isn't from the heart, nothing is.
Ms. Cara on Duval
Cara has only been in Key West for a few months, but she's already made the Crime Report in the Citizen once. (Not her fault. Not a terribly funny story, though justice was served in the end.) She moved from Brooklyn, looking to live somewhere warm where you didn't need to drive a car. Anyhow, I was standing on Duval with no particular agenda, trying out a new lens late one afternoon, when Cara rode by on her way back from Fort Zach. I took a couple frames. She stopped to talk, showed me a stack of old card catalog cards she's scored at the library. I liked the shot, but couldn't think of a proper reason to include it. Then I figured out why to include it: she's got the look of someone who seems happy to be here.
The Mysteries of Fleming Street
Sheila Mullins has had many jobs since she moved to Key West in the 1970s. She was a cook for Mel Fisher's treasure salvage crew, she worked in a picture framing shop, she was mayor. She's also been a landlord. One of her tenants in the early 1990s was Michael Chabon. This was after he wrote "Mysteries of Pittsburgh" but before he wrote "Wonder Boys" or "The Amazing Adventures of Kavalier & Clay" – three of the great books of our time. Nobody knew he lived here. When he left, he gave Sheila his bike, which she has kept ever since and occasionally rides, even though it is too big for her. I like to think of him riding around Key West, plotting his plots, anonymous and happy, though if he'd been happy here, he probably would have stayed. Oddly enough, around the time he lived here, a guy who in recollection looked like him, and who had a shifty story, as if he was making it up on the spot, came into the alternative newspaper I used to own, wanting to write a story. So we had him write something, and he handed it in, and it was terrible. Maybe it was Chabon, playing literary possum. Maybe it was someone else. It's a mystery.
Nan with Sparks
It Started In Scranton
Frank is known as the old man of the poker game I play in. Which might not be fair or accurate. He has a tendency to yip like a teenage hyena when he wins. Or to sing show tunes, many of which I believe he makes up on the spot. It is his fault that I know the opening lines to the "Pennsylvania Polka."
David is a nurse practitioner. He also rides unicycles, spear dives, occasionally wears reptilian contact lenses, and sometimes kilts, though to date, not all at the same time. He once sutured a large cut on my hand in the middle of a party. I'm only disappointed there's not a bigger scar.
Frank and David have been married 15 years.
They found their first big-wheeled monster bike at a garage sale. Now they have a matched set. I like the way the outsized wheels sometimes make them look like tiny people.
Three For Three
I first met Ralph at a Goombay festival, when he was standing at a beer table, yelling my wife's first and last name through a megaphone, and saying that she really needed to buy some beer for charity. (Apparently they knew each other.) We have crossed paths at random intervals ever since. Half the time it's when I'm out walking the dog and he stops to tell me what I'm doing wrong. (He runs informal dog training classes once a week.) I was standing on the same sidewalk when Ralph, his granddaughter, and his cockatoo rolled by, out for an evening constitutional. I asked if I could take their picture. He said sure. Then they kept rolling down the street. Easy as pie.
Hardscape
Since Lance Armstrong got famous, you see people riding road bikes all over the place. Even if most of those people will (especially now) deny they ride because of Lance Armstrong. But back the in the day, there were only about six people who rode skinny-wheeled bikes around Key West. Craig was on of them. When he was seventeen, Craig shipped off to Belgium for a summer to try his hand/legs at racing. He ate a lot of pasta, rode a lot of criteriums, and decided that he loved riding but didn't need to race so much. After grad school moved to the Keys to work for a well known landscape architect, despite the limited cycling opportunities. After a decade and a half, he is now the well-known landscape architect. Also, at this point, I believe he holds the record for the most times riding up and down US1. The Cannondale is Craig's latest bike. It is so light that if he was going to race it, he would have to add some weight to make it legal.
Fin
Emerald Blur
The young people can get fetishistic about their bikes, stripping them of parts beyond all reason. A rear hub that allows you to coast when you stop pedaling? Too complicated. Brakes? For wusses. I built up a couple bikes like that in my youth, but now it just makes me feel old and fearful for the cartilage in my knees. Simplicity can be stupid. But then there is Trish's bike, not quite a fixie, not quite road bike. A single speed with a freewheel, drop handlebars, and brakes – necessities without excess. When she's not working or politely kicking everybody's ass in around-the-island paddleboard races, you see Trish ripping around the roads of Key West on this thing, a graceful blur.
A Clear Idea
I've had a low grade obsession with Buzz's business for years. He cleans storefront windows. He carries everything he needs on his bike, including the long squeegee poles and the water, which sloshes a bit if he hits a bump. Rumor is he bought the business for $200 over 20 years ago and has made most of his living off it ever since. While I was following him around a woman in one store told me he took her to her senior prom. She also told me his Christian name, which I forgot as soon as I could, because who wants to see behind the curtain? We crossed paths with the manager of a restaurant whose windows Buzz cleans and Buzz asked for a check for services rendered, and the manager said sure, but then neither could remember how much was owed, so he just gave Buzz a blank check. Which shows a certain level of trust. They also talked in un-parseble shorthand about the qualities of certain red wines. One odd thing Buzz and I have in common: pleasant childhood recollections of the animal smells at the tiny city zoo in Bridgeton, New Jersey.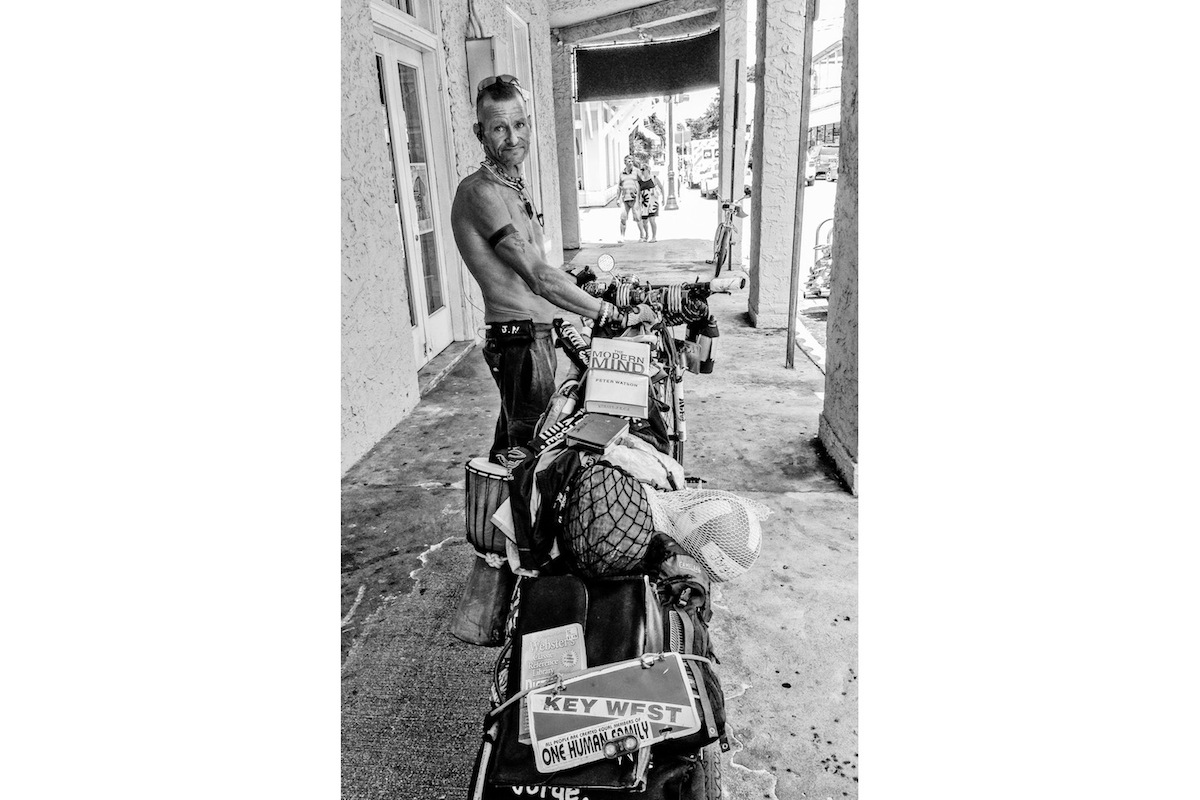 The Modern Mind
I'd seen this guy on Duval Street several times and wanted to take a photo of him. But I was always in a hurry to get somewhere and, well, the Mohawk makes him look a little fierce. Then I passed him when I was walking to the P.O. one day. He was hiding from the sun under the portico at the La Concha. He had a library copy of "The Modern Mind" bungeed on top of everything else on his bike – everything else included bongos, a volleyball, and some Cuban reels. I said, hey, can I take your picture? And he ignored me. Then I noticed the ear buds, tapped him on the shoulder, and asked again. When he took the ear buds out he said the girl with the parrot on her shoulder and the guy with the boa constrictor who worked on lower Duval both got five bucks a photo. Any chance he could get two bucks?I looked through my wallet and said all I had was a twenty. How about a buck fifty? he said. I gave him the twenty. I think we both got the better end of the the deal. We shook hands, but I didn't catch his name. If any one buys this, I'll split my end of the money with him.*
*I ended up selling three small prints of this. I saw him a few months later up on Boca Chica and gave him his end.
Artificial Angel
Ben Harrison has written everything – novels, non-fiction books, plays, many songs, and the foremost text on Key West's favorite early 20th century necrophiliac, Carl Von Cassel. (See his book, "Undying Love.") I'd never seen him write a letter to the editor or speak at a city a city commission meeting until the new city sexton closed and locked the gate on Frances Street, cutting off the bike route through the cemetery, a throughway that was in the cemetery's original plan and a ride that is one of Key West's great simple pleasures. The excuse was something flimsy about a homeless person on a bike verbally disrupting a funeral, therefore anyone who rides a bike was of questionable moral content. (It would be great to see a city employee condemn all drivers because one person in a car was a jerk.) Ben, and a small army of others, took the sexton's arguments apart piece by piece, and the gate was reopened. "Riding my bicycle through the graves inscribed with messages of heartfelt sorrow always makes me appreciate that each day is a precious day that should be lived generously and to its fullest," Ben wrote at the time. Incidentally, when we took the picture, we were accidentally locked into the cemetery and had to haul ourselves and our bikes out over the fence. I am glad the sexton didn't see us.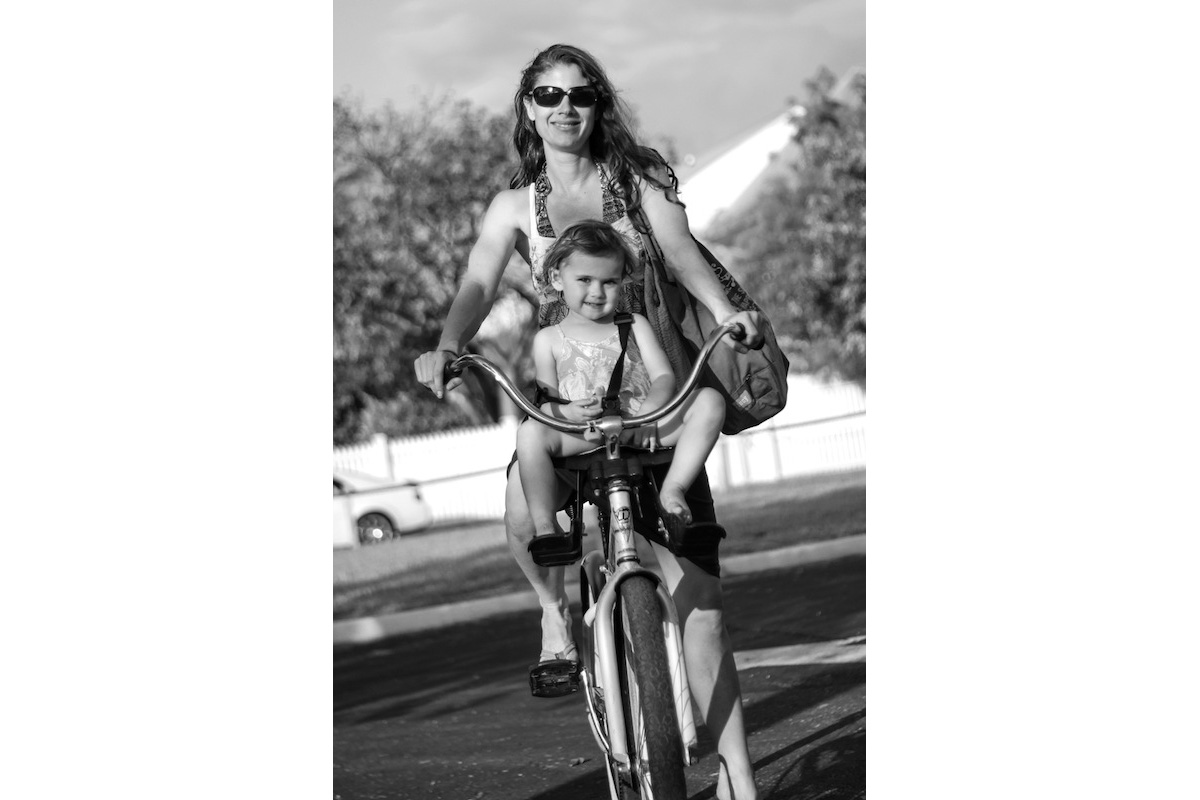 World Up Front
My sister used to have a print in her living room called "Baby In Red Chair." The artist is unknown, but the image is a great painting of a baby snoozing contentedly in a chair. The most prominent thing is the feet. And for some reason, whenever I see an adult cruising around Key West with a kids seat in front of them, I think of that image. And since the kids you see are all different sizes and ages, and since they are rarely snoozing, it's got to be the look of contentment that echoes for me. Because kids want to see everything and bikes give them that chance. This is Gretchen (the mom) and Molly (the kid). The are just leaving the beach. They are rolling forward to charm the world.
Dutch Hills
Tromp L'Worth
Rick Worth got to Key West by bike, slapping mosquitos and sleeping on picnic tables while pedaling the 100 miles down from the mainland. Since arriving he has painted on everything that doesn't move – canvases, roofing tiles, exterior walls, whatever. He's also painted on many things that do move – cars, bicycles, slow moving pets. . . He may be the hardest working painter in Key West – the James Brown of the Key West art scene, if you will. The mural at the intersection of Thomas and Petronia is my favorite thing he's done, though. I like the way it looks like you could walk into it, poke around people's back yard, maybe steal a mango.
He got this red Indian bike from a friend. He is mostly impressed that it has not fallen apart. If he needs to haul things around he has a trailer. He hasn't driven a car in about five years. He doesn't even have a driver's license. I've gone greeeen, he says.
Sitting Up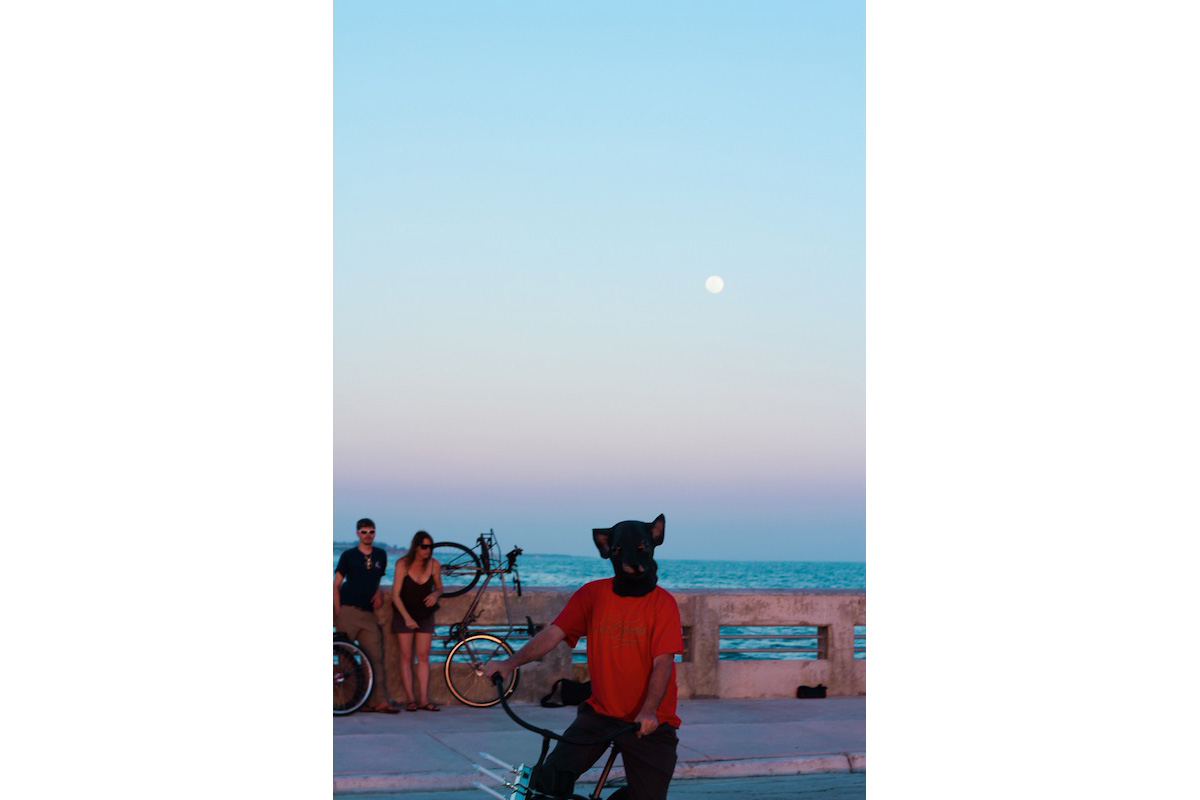 A Midsummer Night's Rat
Uncle Scurvy Is A Bad Man
Velo City